B-Secur, ECG Biometric Technology Experts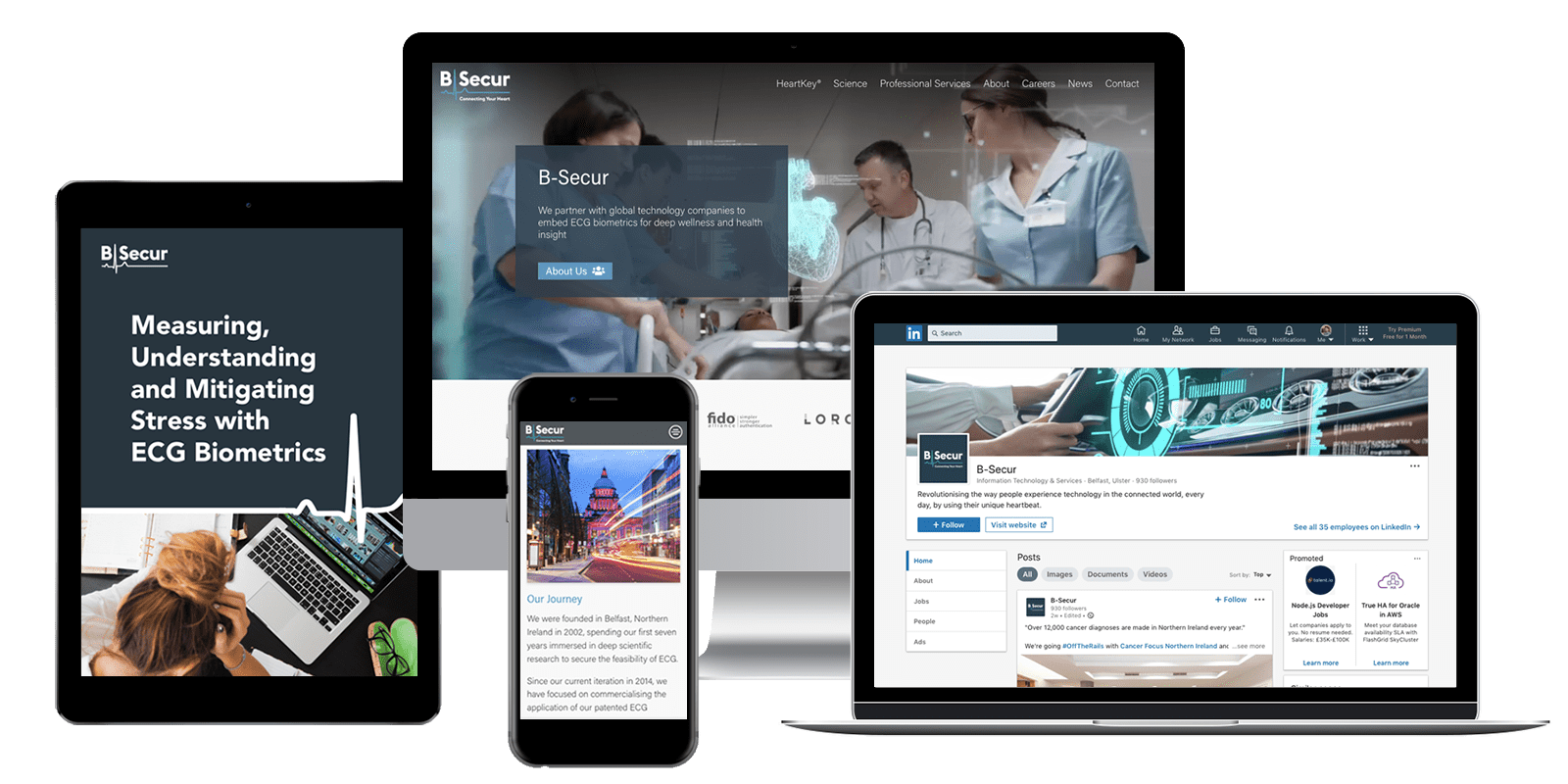 How do you help a dynamic startup build a credible digital brand from a great idea?
B-Secur, creator of powerful ECG biometric algorithm suite HeartKey®, partners with global technology companies to provide advanced physiological monitoring for a range of applications from medical insights and smart clothing to enhancing safety in high risk spaces.
We are proud to have supported B-Secur throughout their growth from four to forty-plus staff and their journey from initial investments through to pivotal partnerships. There's a lot of complexity in B-Secur's offer, but not ones to step away from a challenge here at Eleven we've really valued the opportunities that have arisen, supporting this ambitious company at each exciting stage.
What We Did
Strategy
Partners since 2015, we've worked on long term strategic goals with B-Secur, pivoting and shifting content marketing efforts as required. Development of a strong brand identity and key messages for B-Secur set the foundation to deliver on a content roadmap, backed by strategies tailored to target personas and shaped by competitor analysis to drive customer action.
Tools
We designed and developed B-Secur's website with growth in mind, allowing new iterations to advance the brand proposition without downtime. Showcasing rich resources and valuable media, the website's stability ensures no compromise on speed, while an efficient CRM system supports outbound communications and marketing automation.
Content
From investor decks to white papers we've provided B-Secur with high quality content to establish them as pioneers in their field and drive customer acquisition. A broad range of content is utilised to elevate the brand, such as staff interviews for an insightful online article series and key collateral for high-profile events like CES, including UI design for concept demonstrators.
We have established a strong online credibility with our customers and stakeholders globally, which we simply couldn't have done without Eleven
Alan Foreman, B-Secur CEO

Over the course of our partnership we are proud to have witnessed B-Secur go from strength to strength, and the excitement around HeartKey® build as ECG understanding becomes more mainstream.
To find out more about B-Secur and their HeartKey® technology head to the B-Secur website.
Ready to establish a global digital brand voice?
We can support your goals